I. Executive Summary
The Spring of Life Evangelical Church has undertaken a fundraising project for the construction of its new church building in Biakout, Mount Lebanon, Lebanon.
The land was purchased in 2013. The design was completed in July 2016, and the building permit obtained in October 2016.
The project consists of the aboveground church building and four underground basement floors of offices, classrooms, conference, and multipurpose halls, as well as parking areas. The project is surrounded by green areas including a terrace on the mezzanine level.
II. The Spring of Life Church
The Spring of Life Evangelical Church has become member of the Union of Pentecostal Churches in Lebanon in 2008, which functions under the jurisdiction of the Supreme Council of the Evangelical Community in Syria and Lebanon.
In Lebanon, its community comprises two main congregations: Arabic and Armenian. The ministry of the church is primarily focused on reaching people of all ages and various ethnicities to grow and prosper spiritually, socially, and physically. In doing so, the church raises awareness, educates, and empowers with knowledge related to their spiritual, physical, mental, emotional, and financial welfare.
The Purpose of the Spring of Life Church is to accomplish the Great Commission through evangelism, teaching, missions, charity, and the implementation of effective plans in cooperation with all churches and Christian institutions operating in Lebanon and throughout the world.
The Statement of Faith of the Spring of Life Evangelical Church is in conformity with that of all churches who profess the Christian faith. Our Statement of Faith is published on our website on the following link: https://www.solchurch.com/en/statement-of-faith.
As detailed in the Church Bylaws (available upon request), the Spring of Life Church funds all its programs and activities through the tithes, offerings, and donations of its members and partners.
III. Community Services
Alongside the pastoral care and oversight, the following community service activities are carried out in order to meet the needs of the community.
Charity: Giving to the poor has always played a vital role in the daily life of the Spring of Life Church. Distribution of food and basic needs to needy families has reached up to 400 packages monthly.
Education: Special emphasis is placed on educating the community in a variety of areas of life. The Spring of Life educational program covers many of the below through seminars, events and special courses:

Christian Living & Discipleship
Family and Marriage Life Counseling
Relationships
Emotional Wellbeing
Women Empowerment
Health Programs
Hygiene

Relief Response:

To Syrian Refugees:
Food, clothing, and hygiene items have been distributed to 4,000 people, in addition to the following services:

Free medical examination.
Free medication to 5,000 people.
Social and psychological support through awareness sessions and family visits.
Children programs and summer camps reaching 850 children.

To Beirut Port Explosion Victims:
As a reponse to the August 4 Beirut blast, the Spring of Life church has reached out to affected families, by extending support in removing rubble and debris from affected apartments and shops, providing humanitarian aid, and sharing the Gospel. 9 of these apartments and shops have been restored and renovated through this ministry. This response started with the victims of the blast and is expanding to include families affected by the ensuing economic crisis.
To date, 507 humanitarian aid packages have been distributed (in partnership with Horizons International and Partnership for Resource Development). This has impacted a total of 175 families, 50 of whom are enrolled in the ongoing relief program and ministry of the church.
IV. Needs Statement
The sustainability and further expansion of the ministry necessitates a privately owned church building and community center. The cumulative rental cost of the church since its establishment in 2008, has reached $1.5M. This included excessive funds spent to repair and maintain worn out facilities.
The Church income comes mainly from members of the congregation, which can be invested in the community more efficiently if the church owns the building.
A privately owned church building will cater for all of the church ministry needs, including but not limited to community events, age group activities, classrooms, conferences, etc…
V. Project Description
We have purchased a land of 1,036 m2 in Biakout, Mount Lebanon, for the purpose of constructing a new church building and community center, in order to make services more accessible to our congregation and the community.
Our desire is for this church building to serve as a center utilized by other churches for their own conferences, events and activities.
Our current design optimizes the use of the available space to accommodate the following facilities:

Church Building

600-Seat Sanctuary (Ground Floor, Levels 1 & 2)
Offices and childcare facilities. (Basement 1)

Community Center

Conference Room (Basement 1)
Classrooms (Basement 1)
Multipurpose Hall (Basement 4)

Parking Areas (Basements 2 & 3)
VI. Project Status
The following is a summary of the current actual status of the project:
Design by local architecture firm FMCP is completed.
The building permit has been issued by the authorities.
Shoring and excavation contract is anticipated to be awarded in May 2021.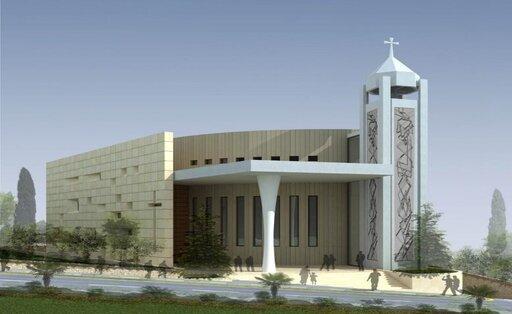 Figure 1: Preliminary Design Perspective View 1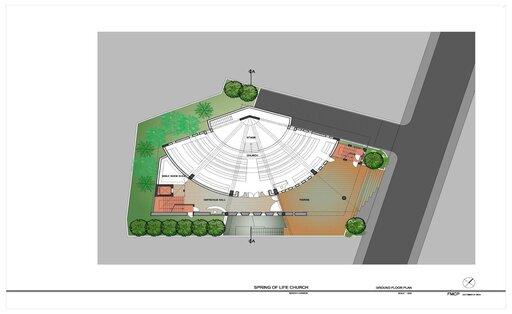 Figure 2: Ground Floor Layout Plan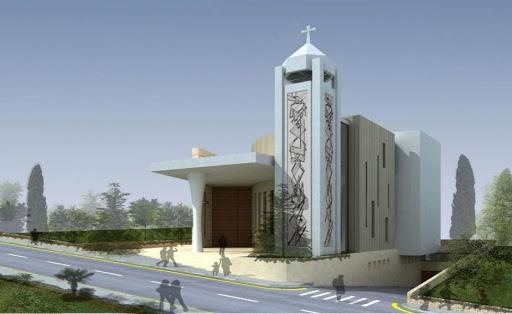 Figure 3: Preliminary Design Perspective View 2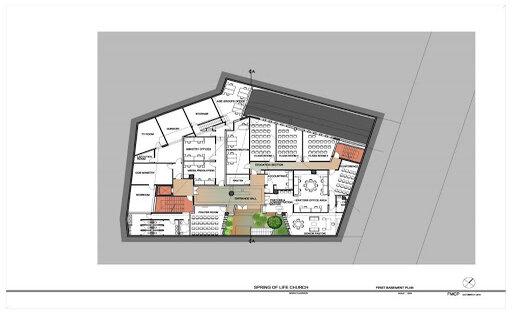 Figure 4: First Basement Floor Layout Plan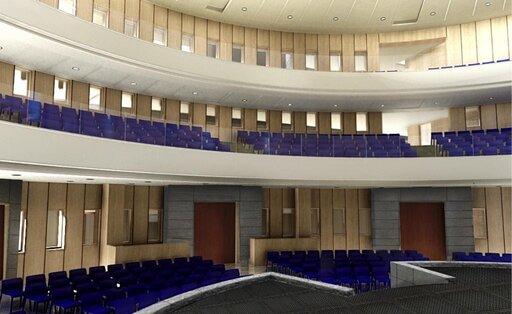 Figure 5: Church Hall Mezzanine Floors View from Stage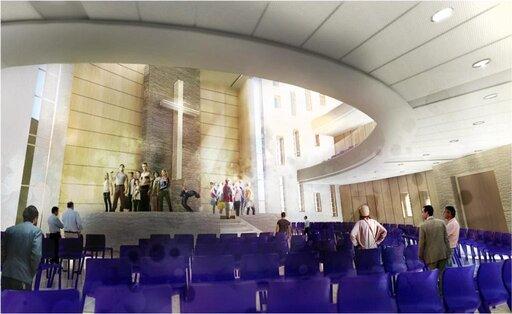 Figure 6: Church Hall Entrance View
VII. Project Timeline
The project is planned to be executed in three main phases. The Shoring and Excavation Package is ready to start. Structural Works will follow in 2 stages: Substructure and Superstructure. All MEP provisions will be included in the Structural Works Package, while MEP services will be installed at a later stage, along with Finishing and Façade Works.
| | | | |
| --- | --- | --- | --- |
| | Description of Work | Start Date | Finish Date |
| Phase One | Shoring & Excavation | May 2021 | July 2021 |
| Phase Two | Structural Works | August 2021 | February 2022 |
| Phase Three* | Finishing, MEP & Façade Works | July 2022 | Dec. 2023 |
*Although it is technically possible to start Finishing, MEP and Façade Works in parallel with Phase Two, Phase Three has been postponed until after structural works are completed, due to financial constraints. Although this may delay the overall completion of the project, but it does allow more time for fundraising for this final and most costly phase.
VIII. Project Budget
| | | |
| --- | --- | --- |
| | Description of Work | Anticipated Costs |
| Phase One | Shoring & Excavation | $350,000 |
| Phase Two | Structural Works | $1,800,000 |
| Phase Three | Finishing, MEP & Façade Works | $3,400,000 |
As of April 2021, the entire Phase One budget is already raised, as well as 53% of Phase Two budget.
IX. Organization Chart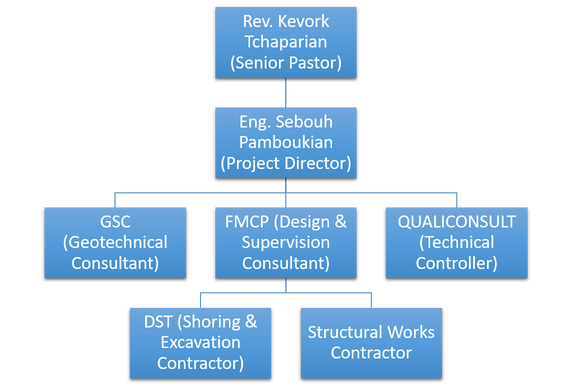 X. Endorsements
Horizons International
Chairman: Kevin Cox
Tel: +1-303-442-3333
Email: connect@horizonsinternational.org


Mr. Tony Kassemian
Entrepreneur
Tel: +30-6944320775
Email: toka@otenet.gr


Dr. Vicken Garabedian
Cardiologist
Tel: +33-680361186
Email: vicken.drgarabedian@wanadoo.fr
XI. For Donations
If anyone would like to support us in our obedience, you can contact us at info@solchurch.com by sending us an email of how you would like to donate or click on this link www.solchurch.com/en/construction-donate. Follow us on our website or through social media to learn more about the process of the church building project, so we can together see the Lord's word fulfilled.
Rev. Kevork Tchaparian
Founder & Senior Pastor of the Spring of Life Church